Stations of the Cross at Elon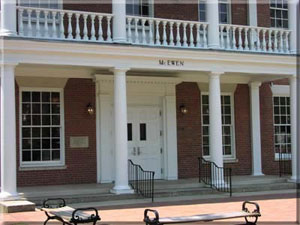 6th Station: Veronica Wipes the Face of Jesus
As Jesus continues his journey toward Calvary, a woman breaks through the crowd. She saw from a distance that Jesus was tired and weak; his face was sweaty, streaked with blood, and covered with dust from the street.
Veronica is a person moved to compassion. She takes the veil protecting her own head from the sun's heat, passes by the guards and reaches to wipe the face of Jesus.
Had she not followed her own instinct, had she reflected a bit more on what she was about to do, she may not have found the courage to do it.
It was dangerous. She could have been kicked by a guard, pushed back into the crowd not all of whom would look kindly on her good deed. She could have been accused herself of interrupting the due process of the law and given some penalty. Despite the danger, Veronica steps forth.
Are we as brave in giving witness to our faith? Are we willing to come forth, to stand up for what we believe in even in the face of possible ridicule or rejection?
Are we ready to identify with the poor, those who suffer, or those looked down upon by society?
Or would we rather remain safe and secure in the back of the crowd of life, untouched by conditions which others less fortunate than we must endure?
Can we extend our helping hand, the strength of our arms and legs, our listening ear, our kind words of encouragement to someone who suffers?
Or do we look away and pretend that we didn't see?
Hopefully, like Veronica, we take that step to help another in need, for it's then that Jesus' face is revealed to us too.