Stations of the Cross at Elon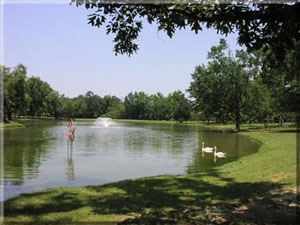 4th Station: Jesus Meets His Mother
How painful this last journey must have been for Jesus: physical pain in carrying the weight of the cross, and even more pain, emotional pain, seeing the pain and sorrow in his own Mother's eyes, knowing her suffering on his behalf, knowing that she (like most mothers) would have rather died in his place.
Yet, Jesus had prepared Mary for this moment, and knew that she would find the strength, the faith to shoulder her cross of temporary pain.
At this moment, Mary is helpless.
We too often feel helpless through life. Especially as we have to stand by and watch as someone we love suffers through some illness or difficulty, or approaches death. We too feel helpless when pain comes to someone we love. Or perhaps helpless as a loved one chooses some path we know will prove detrimental to their own spiritual health and happiness.
Mary does not just stand by and do nothing. She's there, present to Jesus giving her maternal support. This Jesus knew. Mary prayed, and gave her comfort to the infant she nursed and the child she raised: by her presence in the crowd and by her own journey to Calvary, with Jesus.
Do we use Mary as a model for our lives? What's our response when pain or difficulty comes to another? Do we avoid them? Let them suffer alone? Are we "fair-weather friends": unwilling to involve ourselves in another's problems for the inconvenience it may cause us?
"Whatever you neglect to do for the least of these, you neglect to do to me."
Can we see our patient endurance in the face of troubles, our own or another's, as one way of sharing in Jesus' way of the cross... as Mary did?