Stations of the Cross at Elon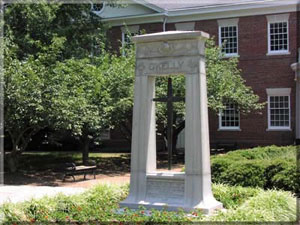 The 14 Stations of the Cross are a traditional Christian meditation devotion commemorating the passion and death of Jesus. The Stations originated from the practice of Holy Land pilgrims visiting the actual places of the events of the passion and death of Jesus. Evidence of Stations depicting the events leading up to the burial of Jesus in churches outside of the Holy Land dates back to the 5th Century.
It is hoped that as you reflect upon these Stations here online, or physically walk these 'stations' around our Elon campus here, you'll come to a greater spiritual awareness of your own Christian life, your life with Jesus today.
As you 'walk' these 14 Stations do so remembering that Jesus did not stay in the tomb, but rose on Easter! We are a Resurrection people: a people who see life through the eyes of faith in the Resurrection of Jesus, and our own future resurrection to new life.