Alpha Omega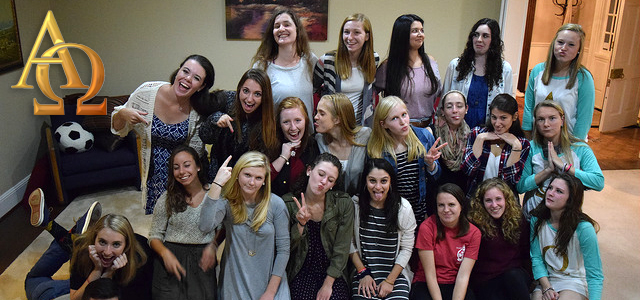 The Alpha Omega (AΩ) program is a Big/Little program, a way for upperclass CCM students to help transition first-year students into Elon. It's a fun opportunity to make friends and share/grow in the Catholic Community here at Elon!
Mission Statement
AΩs connects Elon's new students to older students as a means of faith sharing and social activities. A new student's Alpha will provide support and encouragement as a mentor and friend. The program seeks to ease the transition of Catholic students to the community of Elon University. As a part of AΩ, we will have activities such as movie nights, dinners, picnics, and other activities suited to the members.
Goals
To create a program that will help new students be more comfortable in their transition to their college life, specifically in the area of their Catholic faith.
To promote long lasting friendships in a strong faith-based community.
To emphasize accountability among Elon University's Catholic Campus Ministry organization.
Roles & Responsibilities
Alphas (Upperclassmen): First and foremost, to provide a friendship which can offer comfort and guidance in a new Catholic student's faith and general campus life. In addition, to check up on their Omega to ensure his/her well-being while offering invitations and accountability to all Catholic events.
Omegas (First Years/New Students): Befriend Alpha while learning about college and transitioning into life at Elon. Actively participate in events that he or she is able to attend. Enjoy the opportunities offered and have fun!
Please contact for more information about the program or how to become an Alpha or Omega.