His Work Is Not Done
By Kristen Burke, Class of 2018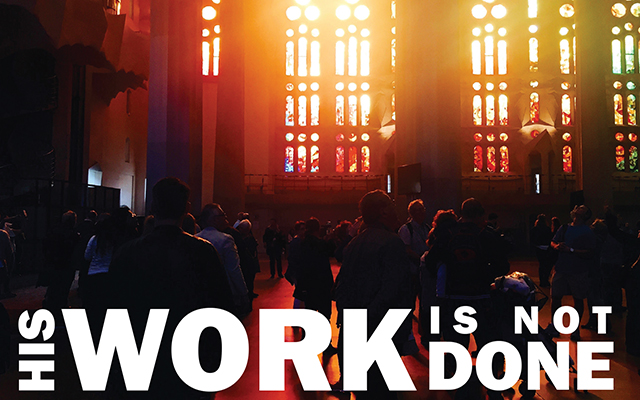 It is a blessing and a privilege that we are able to feel. Whether those feelings are positive or negative, they contribute to our identity. While studying abroad in Spain this past fall semester, I was given the privilege to engage in some of the most breathtaking experiences that permitted feelings to consume me. No single experience is fresher in my mind or more impactful than my weekend visit to the city of Barcelona.
There, as I stood at the base of the Nativity Facade of La Sagrada Familia, the famous Catholic basilica, I was overtaken by an unexplainable feeling. Although the intricacy of the architecture was remarkable, the reality of its unfinished beauty was even more captivating. The construction began in 1882 and today, only 70% of the work is completed.
As I entered the basilica, I lost my footing. I was weak in the knees. I was struck by the natural light beams entering the stained glass windows. I was amazed by the magnitude of the structure. I was within the walls of a structure that I identified with. I, too, am an unfinished piece of work.
In the course of my 21 years on Earth, the hands of our Maker have shaped me. His work is not done and His plans for the future are greater than I could imagine. That is the insight that I was shown there in that place and have since carried with me so close to my heart. You do not have to travel far or lose your footing to feel the overpowering grace of our God. You do have to realize that you, too, are an unfinished masterpiece. We are being crafted each and every day to do the work of our Lord. Today, back at Elon, I strive to live in a manner that reflects my faith because I do not know who I would be without it. I would not know the light. I would not know myself. I simply would not be.