Lent is the season of the Church in which we model Christ's Tempation in the Desert before he began his public ministry. The season begins on Ash Wednesday, when our foreheads are marked with ashes as a reminder that we are created from dust and to dust we shall return. Lent is a time of stripping down to essentials, as we each focus on our relationship with God. During Lent, we are asked to increase our prayer, fasting, and almsgiving in order to prepare ourselves for the celebration of the Paschal Triduum and Easter. It is a time when we remember our baptisms, when Jesus washed away our sins, giving us newness of life. We reflect on what Jesus has done for us - his suffering and his sacrifice, his life, death, burial, and finally, his glorious resurrection on Easter Sunday.

Scripture
There are several ways to increase your prayer life during Lent. The first and easiest way is to pick up the Bible, and read and reflect on the word of God. To assist you, daily readings can be found at www.usccb.org.
Mass
CCM offers several opportunities for Mass each week. Sunday Masses are offered at 10am in the Numen Lumen Pavilion and 5pm in the Elon Community Church. Our Wednesday Night Catholic program in Holt Chapel offers Mass at 7:30PM, followed by either Adoration or Praise & Worship. On Fridays, daily Mass is offered at 12:10PM in the Numen Lumen Pavilion.
Our Ash Wednesday schedule is as follows:
Ash Wednesday - February 14:
12:15PM - Ecumenical service with distribution of ashes - Elon Community Church
3:30PM - Scripture service with distribution of ashes - Numen Lumen Pavilion
9:00PM - Mass with distribution of ashes - Elon Community Church
Our Holy Week schedule is as follows:
Holy Thursday - March 29:
7:30PM - Mass with washing of the feet - Holt Chapel
Good Friday - March 30:
12:00PM - Stations of the Cross - Fonville Fountain in Scott Plaza (in front of Alamance building)
Easter Sunday - April 8:
11:00AM - Mass - McKinnon Hall (Moseley Center)
Adoration
Mother Theresa called time in Adoration of the Eucharist "the best time you will spend on earth." The Blessed Sacrament Chapel is found in Holt Chapel (on South Campus) and is available for personal adoration 24/7. If you need access to the building, please contact . Adoration is also held every other week as part of our Wednesday Night Catholic program.
Reconciliation
Going to confession during Lent is a great chance to invite God into your life. Haven't been in a while? No amount of time has been too long for God! Fr. Peter offers opportunities for the Sacrament of Reconciliation before and after Sunday Masses. If those times don't work for you, contact to set up another time!
Stations
The Stations of the Cross is a popular devotion which allows us, through prayer and reflection, to follow Jesus Christ on his way to Calvary. The Stations holds a special significance among us Catholics. It is one of the most important devotions honoring the passion of Jesus. CCM holds a special Stations of the Cross on Good Friday, around Fonville Fountain in Scott Plaza (in front of Alamance building) at 12:00pm. Please join us for this special event with both faculty and students. If you are unable to join us, our website has a "virtual" Stations that you can proceed at your own pace.

Fasting is one of the most ancient actions linked to Lent. The goal of fasting is linked with prayer. The pangs of hunger remind us of our hunger for God, allowing us to open our hearts to God. Prayer and fasting together brings us to what Lent is about - a deeper conversion.
Ash Wednesday and Good Friday are days of fasting and abstinence. Fridays of Lent are also days of abstinence.
Fasting is to be observed by all 18 years of age and older, who have not yet celebrated their 59th birthday. On a fast day one full meal is allowed. Two other meals, sufficient to maintain strength, may be taken according to each one's needs, but together they should not equal another full meal. Eating between meals is not permitted, but liquids, including milk and juices, are allowed.
Abstinence is observed by all 14 years of age and older. On days of abstinence no meat is allowed. Note that when health or ability to work would be seriously affected, Church law does not oblige. When in doubt concerning fast and abstinence, the Campus Minister should be consulted.
Fasting, almsgiving, and prayer are the three traditional disciplines of Lent. The faithful should undertake these practices seriously in a spirit of penance as they look forward to the renewal of Baptism Promises at Easter.

Almsgiving, far from being just an act of giving, "is an attitude of the heart," says Monsignor Forte, a theologian, "a heart that is humble, repentant, merciful, compassionate, which seeks to reproduce in its relations with others the experience of mercy that each one of us lives in our relation with God."
Operation Rice Bowl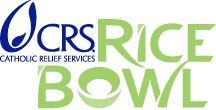 CCM is participating in Rice Bowl again this year for Lent! This is a program of Catholic Relief Services to help people around the world with issues of poverty, hunger, health, and disaster relief. If you gave up something like coffee or chocolate, you could put the money that you would have spent in your Rice Bowl as a donation instead! 75% of funds go toward Catholic Relief Services to assist over 100 countries around the world, and 25% of funds go to help fight hunger and poverty here in North Carolina. Inside your rice bowl, you'll find a Lenten calendar with daily reflections and recipes. We will collect all bowls after Easter.
Service
Almsgiving is more than just donating money; it's about sharing your time and talent. CCM also encourages students to set aside time during Lent to assist our less fortunate brothers and sisters. If you are interested in joining CCM on a service project, please contact to get involved.